Winter Biking Setup
Published December 31, 2018
Here in The Great White North™ (*ahem* the midwest) winter has set in and brought snow. In an effort to extend the biking season and give me other commuting options, I've been working on a biking setup for the winter. Having used it for the past month in varying conditions I'm pretty content with it.
Base
To keep the costs down, I didn't want to buy a new bike (d'oh!). Given that I currently own two (N = 2) bikes: a 1998 Gary Fisher Joshua Z0 full-suspension and a 2013 Trek 3500 hardtail the choice was pretty obvious: the Trek.
I got the Trek new in 2013 for the MSRP of $400. It's nothing special, just a very low-end entry-level hardtail:
aluminum frame
26" wheels
3-gear chain ring
7-gear cassette
rim brakes
Prior to this endeavor my only upgrade to it had been RaceFace Chester pedals (I'm not currently in the clipless club).
Tires
The most important part of this setup is the tires. Being able to maintain traction in slush, ice, and snow is critical. Given this, I was looking at my options for 26" studded tires.
Ultimately, I decided on the Kenda Klondike tires. I went with the 2.1" wide option, which is a slight increase from the stock 26" x 1.95" tires while still being able to clear the frame. After shipping and a 25% coupon (via Google) the cost was ~$150 for 2 tires.
Fenders
Secondary to nice tires, I wanted fenders to keep the wintry slush + salt + sand mixture off me. A standard front-fender that mounts to the fork seemed like a no-brainer. After some research, I decided to give the Ass Savers MUDDER Regular a shot.
After looking at other winter biking setups and doing some research, I settled on getting the Portland Design Works Origami Front and Origami Rear fenders. Obviously this setup is not as ideal as a full-fender setup, but it has the benefit of being less expensive and more modular.
Lights
Admittedly, I lucked out with these. After browsing local bike shops lighting options generally seemed more costly than I wanted. All I really wanted was for a front and rear light that would allow me to see while simultaneously being seen. For my application (and budget) I don't need several hundred lumens.
At Walmart, an employee noticed I was looking at the bike lights and directed me towards a heavily marked-down box containing a bike pump, water bottle & cage, and (wait for it) red rear LED lights and white front LED lights. I was able to mount the front light to the handlebars and the rear to the underside of my seat bag with some zip-ties. For $5 you really can't beat it.
Results
After everything, I spent about $215. Here's the result: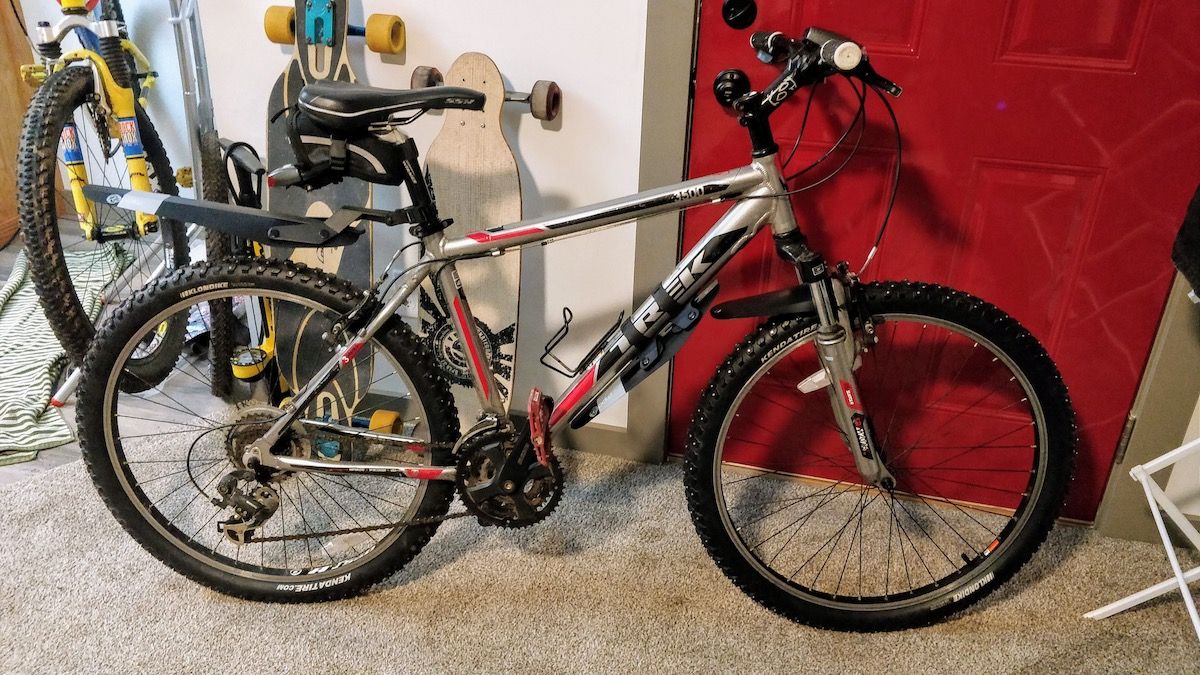 The complete bike setup
Last modified January 27, 2021 #biking #buildlog
🔗 Backlinks