Greener, Less Rusty RockHopper
Published February 1, 2021
Welcome to my 2nd post in my "Vintage RockHopper Steel Frame 650B Singlespeed Conversion" buildlog. It's a working title. Very much TBD.
Still, not 100% sold on a nickname yet. Leaning towards "Hopper" over "Rocky" but maybe there's a better one still out there in the ether. No matter, I've made progress!
Powder Coating
I worked with a local powder coater to handle powder coating the frame. This included sandblasting. Initially, I was hoping for some sort of matte oil slick / jet fuel style. While there were fade options, it wasn't really what I wanted. So I pivoted to Enchanted Forest with a matte finish. This cost $100 USD labor + $10 USD to order the powder as he didn't have that one in stock.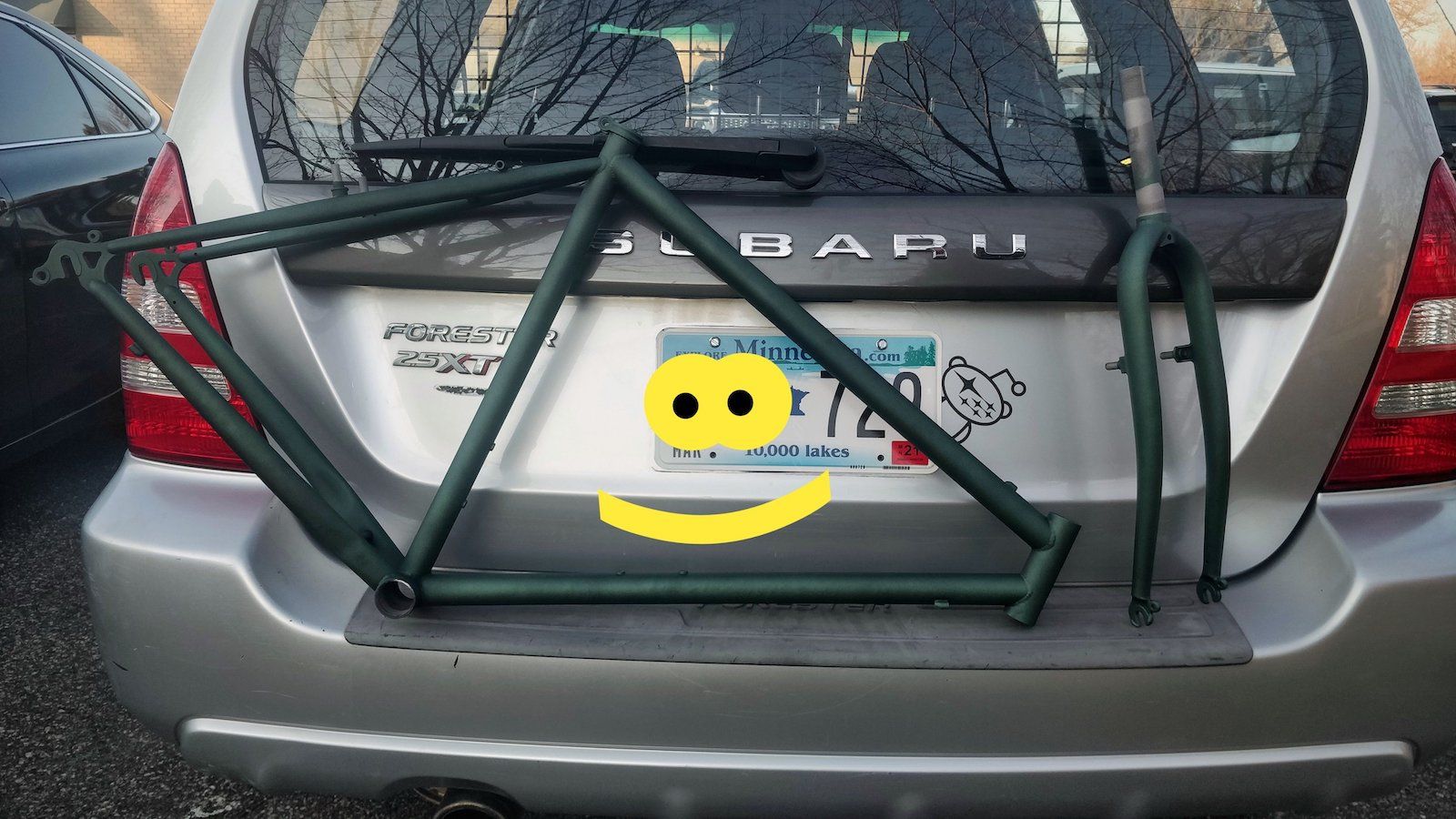 Freshly painted & propped up on my 2005 Forester XT.
Rust Protection
Given I'm working with a steel frame and I'm already tearing it down to build it up from scratch, I figured I would look into my rust protection options. My searching led me to the Frame Saver product by Problem Solvers—yet another child of the all-encompassing Quality Bicycle Products. My understanding is it's largely oil based—a thin film of oil on the exposed metal on the inside of the frame helps mitigate rust, particularly from water ingress.
I picked up a can from a LBS where the employee recommended I do it someplace reasonably warm ("room temp", compared to the cold winter outdoors), with good ventilation, and where it would be alright to make a mess. This pretty much mirrored the directions on the can.
Applying rust protection to the frame.
After everything was said and done, I weighed the frameset and it clocked in at a whopping 6.66lbs. Next steps: actually buy parts. I still really have no idea what I'm doing. 🤓